Scanwipers Non Cassetted Solar Screens
BUDGET solar screen without casette

SCANWIPERS anti‐glare solar screens provide a simple, cost effective solution to problems
occurred from glare on navigation windows. The solar screen is a fully retractable window solution,
which reduces glare by up to 93%, rejects up to 83% of solar energy and almost entirely eliminates
UV radiation. The mariner benefits by having a clear view in all conditions of solar glare.
The screens are simple to install and are suitable for bridge windows on all vessel types
as well as control rooms on specialist vessels such as cable ships, naval and auxiliary vessels.
SUITABLE FOR:
Bridge Navigation Windows
Bridge Side & Rear Windows
Bulkheads Windows
Office Areas


Available in the following colours




Move your mouse over the blinds shapes below to see them in action:

See how you can benefit from installing scanwipers solar screens today
A COOLED ENVIRONMENT
The solar screens reflective film qualities ensure that the internal environment
is cooled significantly, creating a much more comfortable work area.
Controlled temperatures, lead to increased productivity of employees
5 YEAR WARRANTY
Solarglide's product range is offered with a 5-year mechanical defects warranty.
If the products mechanism fails within this period we will replace it FREE OF CHARGE.
All of our screens are manufactured and tested, and we are confident they will last for
15 years PLUS
ALLEVIATE EYE STRAIN
The solar screens help to alleviate eye strain for crew members working on the bridge
INCREASED SAFETY
Clear visibility means increased safety for crew members,
solar screens help to reduce unforeseen obstructions and prevent vessel collisions
NO SCREEN REFLECTION
As well as allowing crew members to have clear visibility of computers and radar systems,
with no reflections. Solarglide solar screens prolong the life of equipment by keeping
them cool and preventing them from overheating
REJECTS GLARE, HEAT & UV RAYS
The Solarglide solar screens reject 93% of glare, 83% heat and 97% of UV Radiation
FULLY TYPE APPROVED
Solarglide solar screens have been specifically designed for the Marine Industry
and are fully Type Approved by Lloyd's Register
EASY TO INSTALL
The solar screens are easy to install and can be fitted by crew members or the ship
engineering department. Full installation guides are provided with screens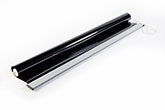 Scanwipers non cassetted solar screen with sidewinder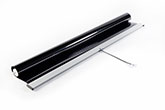 Scanwipers non cassetted solar screen with centrepull cord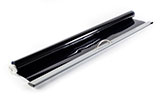 Scanwipers non cassetted solar screen with centrepull handle