Electrical Pantograph Wipers
Pantograph Wipers are a low voltage internally mounted wiper unit which is manufactured using the highest quality components. Reliable in use, and easy to install. They are the ideal choice, when straight line wipers are not an option.
PRODUCT FEATURES:
Designed to satisfy ISO/DIS 17899
Compact fully enclosed mechanism design allows powerful wipers to be fitted into a smaller space that conforms to good practice and Health and Safety compliance with no entrapment issues
Load sharing twin drive shaft mechanism provides long life. Simple harmonic motion is naturally produced as the wiper accelerates and decelerates at the end of each stroke, which avoids irregular motion
Square output drive spindle provides a strong positive drive that cannot slip and has no splines to wear, which also makes it simple to remove
Heavy Duty Long Life Blades up to 1000mm in length. Blades have very long life. Depth of rubber and shape, that are designed to provide good quality of wipe over the glass maximising the quality on an uneven glass surface
Adjustable tension springs which means that the blade pressure can be adjusted on site and throughout its lifetime, if required, to achieve and maintain excellent wiping results
Variable wiper speed control suitable for a light spray to torrential water
Fully sealed mechanism with lubricated bearings, which make the wiper virtually maintenance free
The quad seals, used in the wiper, provide long term reliable sealing against water ingress
Non automotive Industrial motors used throughout, that are both proven and reliable
Stainless steel 316 used in all external parts
High quality powder coated finish provides long-term protection against corrosion
Marine grade strong stainless steel sectional wiper arms up to 1000mm in length supplied in a natural finish as standard. Using marine grade stainless steel enables a good range of arm lengths and reduces flexing providing a consistent wipe quality
Fixed angle of arc made to suit the window that will not loosen. Every wiper is made-to-measure for each window
Angle of arc range from 35 to 90 degrees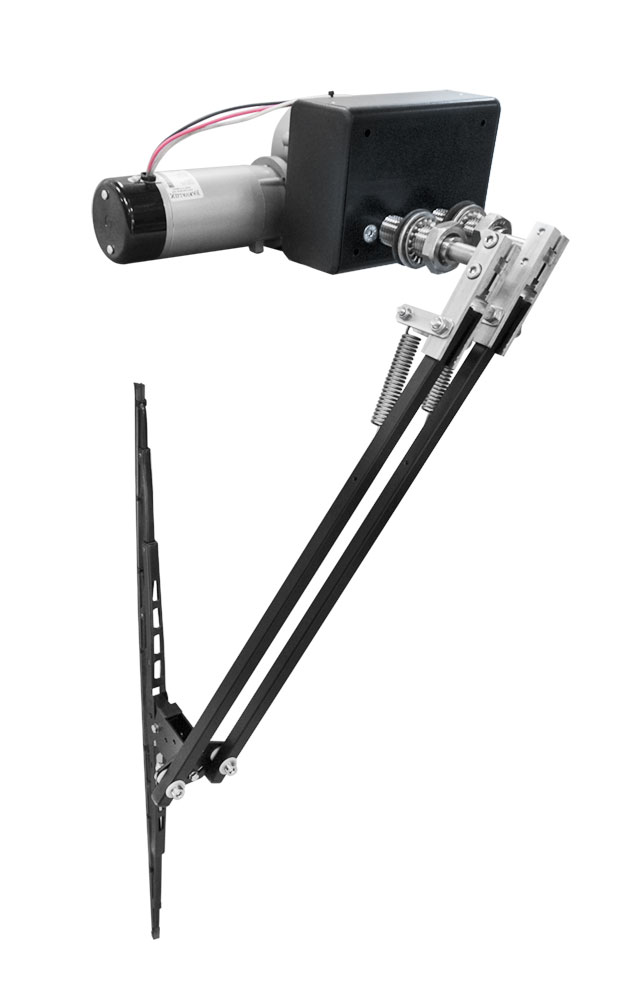 Click on the image for enlargement.
Pantograph Wipers are operated by CANbus control systems