Electrical Straightline Wipers internal motor ISLW / external motor XSLW
Straightline Wipers are an advanced window wiper system designed exclusively for marine use.
As the people behind this product have many years experience in working in the marine industry, we have developed a reliable wiper, that works in all weather conditions regardless of where the ship is sailing in the world.
PRODUCT FEATURES
Designed to satisfy ISO/DIS 17899 requirements
Internal and external motor options available
Motor when externally mounted provides very quiet bridge operation
Simple location brackets can be either bolted or welded to the bulkhead
Mounting brackets arranged to locate wiper on installation (often a simple one man installation) and for simple dismount for periodic maintenance and vessel repainting in situation.
Make and break electrical connections enable simple disconnection
All electrical supplies from distribution are low voltage and "safe"
Single cable with only one M20 or equivalent bulkhead penetration consistent with good practice, that requires only one gland for simple installation
One termination box per wiper supplied with control system making connection simple. External electrics are fully protected from water ingress
Wiper can be handed at time of order or can be changed to suit on site by changing sliding gear. Over hence appearance can be symmetrical if required
Dead length is minimal. More of the window glass is wiped by extended strokes and when fitted to adjacent windows
Variable wiper speed control suitable for a light spray to torrential water
Single and twin wipers available up to 3500 mm in length allowing wide or adjacent windows to be wiped economically
Lower cost non heated entry models available, when heaters are not required
Spray Nozzles can be fitted if ships system is not available at time of ordering. Single or small systems can be accommodated by piping ships water supply to wipers controlled through control system keypad, optionally available on request
Mounting can be mounted above, below or vertical to window
Angled configurations possible. More of window glass can be successfully wiped
Self Parking as standard
Marine grade materials used throughout
Heavy Duty Long Life Blades up to 1200mm in length. Blades have very long life. Depth of rubber and shape that are designed to provide good quality of wipe over the glass maximising the quality on an uneven glass surface
IP 67 waterproofing
Non automotive industrial motors used throughout, that are both proven and reliable
Fully screened and tested for Electromagnetic Compatibility (EMC)
Heaters suitable for Arctic conditions to minus 25 degrees Celsius
Straightline Wipers are operated by CANbus control systems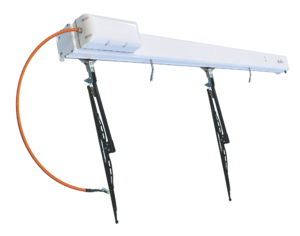 TWIN WIPERS SPLIT PARKING

| | |
| --- | --- |
| Stroke | min. 612 mm, max. 4499 mm |
| Blade | max. 1200 mm |
| Arm | max. 650 mm |
| DC motor | 24V DC |
| Park sensor | Inductive |
| Placement | Above, below and vertical |
Parking of wiper blades at both edges to ensure maximum visibilty.
For unobstructed and safe navigation.
50 mm overlap secures clear wipe of centre part of window.
The use of the twin option can ensure very economical wiping on large areas or adjacent windows.
The new and improved Electric Straight Line Wiper
Narrow end approach minimizing space wasted at both ends and maximizing wiped screen area.
Compact wiper design allowing for easy and elegant mounting on the bridge.
Heavy duty design throughout allowing for longer wiper arms and blades.
Washer system integrated in wiper body. No external piping necessary.
Scanwiper's new Electric Straight Line Wiper can be delivered with external motor, internal mounted motor, as Single Wiper, Twin Wiper and Twin Wiper with split parking.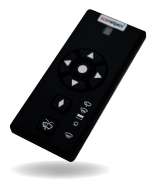 Scanwipers product range includes Electric Straight Line Wipers and Electric Pantograph Wipers, window washer system, Clear View Screen and Solar Screens. 29 wipers, in up to 9 groups, can be controlled with just one keypad.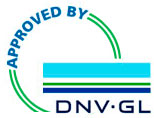 Technical details:
Wiper layout examples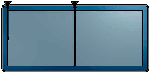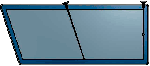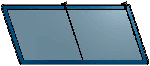 OUR LATEST MARINE WIPER PRODUCT
The SPLIT PARKING of TWIN WIPERS increases safety and comfort substantially. For more info click the video below…