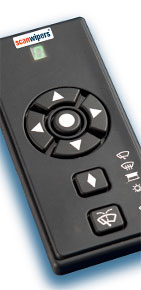 CANBUS controller
CANBUS Control System is a revolutionary control unit for our wipers and other bridge equipment,
that uses the industry standard Controller Area Network to independently control Windscreen wiper heater controls, window wash and anti icing nozzle air purge cycles, as well as heated glass control.
It is capable of full integration with other bridge equipment using standard marine protocols or provide autonomous operation. In addition to these standard functions, it can be extended to include many
other system control applications.
CONTROL OFFERS:
Independent or integrated control of Windscreen wipers, heater controls, window wash, anti icing nozzle air purge cycles and heated glass control
User choice in how the system is to be used
Simple-to-use keypad with only seven keys. Single key operation for primary functions (universal wipe, wash). Multi-key operation for single-sector or clustered sector control. Simple intuitive use with user selectable execution e.g. Port sector only
Keypad incorporates seven-segment display to show status of devices
One touch operation is simple to operate and intuitive using internationally recognised symbols with default, always at a single press for immediate response. One touch operation is simple to operate yet the drill down facility enables more sophisticated control / settings if required
Same software code for all types of products so no variants or 'specials'. It uses an industry standard platform protocol that can be arranged to integrate with, or control other equipment and is capable of complete marine application extension to suit most requirements the user may have
Keypads and device module nodes or ECUs (Electronic Control Units) communicate by the industry standard Controller Area Network (CAN or CAN Bus), at 250Kbits/Sec. CAN Bus is based upon maximum reliability with the maximum possible performance. The accepted industry standard SAE J1939 is employed as the higher level protocol operating on the Controller Area Network and the marine Industry NMEA (National Marine Electronics Association) 2000, that provides communication between marine specific devices such as depth finders, chart-plotters, navigation instruments, engines, tank level sensors, and GPS receivers
Wash time, air-purge time, wipe delay, wipe extend, wash with/without wipe, universal wash cycle or single-sector wash cycle, intermittent periods (three independent periods)
Set-Up Mode (via key combination entry) for Sector configuration and speed range
Can be integrated into other on board systems if required or additional equipment added later
Because of conformance with SAE J1939/NMEA 2000, the system is readily adaptable and capable of interfacing with existing systems
Built-in auto-resetting fuses for over-current or blown-fuse conditions
Sophisticated capability should users require more advanced systems control and application extension
Almost unlimited extension capability